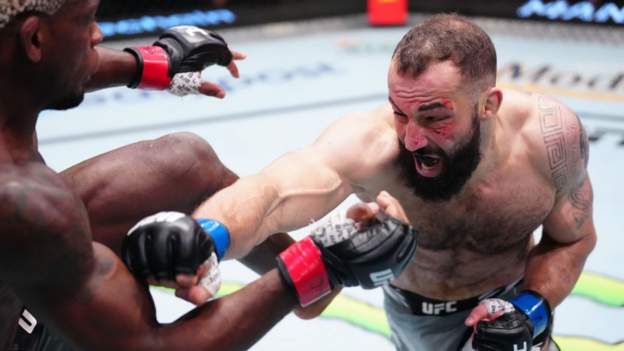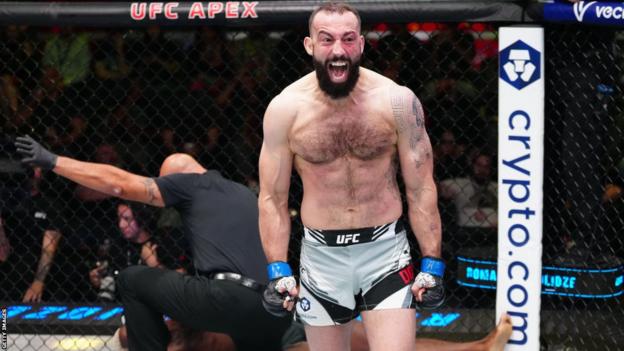 Roman Dolidze moved to Ukraine when he was 20
Venue: O2 Arena, London Date: Saturday 18 March
Coverage: Follow live text commentary and reaction on the BBC Sport website & app from 20:30 GMT
"No light, war in country but there is no limit when you have a dream."
Before the biggest fight of his career at UFC 286 in London, middleweight Roman Dolidze returned to Ukraine in January with this defiant message to his social media followers.
The Georgian has spent the majority of his adult life in Ukraine, moving to Odesa aged 20 to study – earning a master's degree in management and economics – before finding his path into mixed martial arts and opening an MMA gym.
He closed the gym prior to Russia's invasion of Ukraine in February 2022 to focus on his career as a fighter, but still holds close ties to the port city on the Black Sea and has been holding grappling seminars with his former students since returning.
"I started everything in Ukraine. My first steps in MMA were in Ukraine," 34-year-old Dolidze tells BBC Sport.
"People are very interesting. People always get used to situations. At first, life is changing and you don't know what to do but after a while you find a way how to live.
"War touches everybody. I have a lot of friends who are in the war. It's a very bad and sad situation. I always say that in war the best people die.
"People have strength, power and a strong will to try and change something. I hope this madness will end soon because I don't see truth in this war."
In the past, Dolidze would simply book a flight from Georgia to visit family and friends in Ukraine but his recent journey was much more arduous.
A flight to Turkey was followed by another into Moldova, and then onward by car to the border.
After being granted access into Ukraine, Dolidze found his former home city in darkness.
"It's quite hard on the border. There are a lot of questions. 'Why? What?' – and stuff like that," he says.
"In the city, the main problem is no light and you can't be outside after 11pm.
"In the evening, when they are training there is no light but people still try to live a full life as much as possible."
Swapping professional football for MMA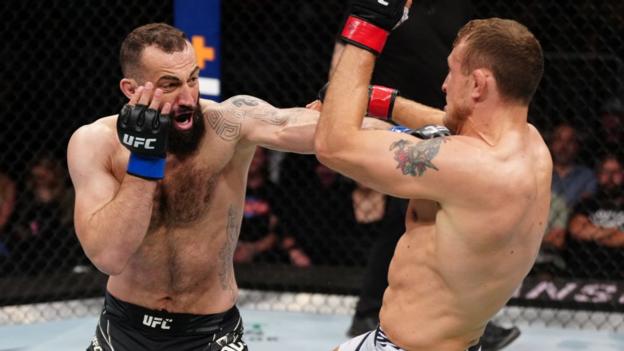 Dolidze is on a four-fight winning streak and has just one loss on his MMA record
Dolidze is part of a wave of Georgian fighters taking the UFC by storm, along with number-three ranked bantamweight Merab Dvalishvili and top-ten ranked featherweights Ilia Topuria and Giga Chikadze.
"[Georgia has] a big history and culture of wrestling. We have our own traditional wrestling called chidaoba," Dolidze says.
"We are just seeing the first steps now. I am sure we will see a lot more Georgian fighters join the UFC and other big organisations.
"They will show how great Georgian sport and MMA is. A lot of people are starting to train MMA now because of us."
A future in mixed martial arts was not always on the agenda for Dolidze who spent his late teens as a professional footballer, enjoying spells with Turkish Super Lig clubs Trabzonspor and Ankaragucu.
I hid MMA world title from Russian soldiers – Amosov
But his dream of a long-term career came to an end after failing to get a new contract.
Dolidze's attention quickly shifted as he started to train in sambo, Brazilian jiu-jitsu and grappling prior to moving into MMA aged 28 when he was offered a lucrative contract to compete on the regional scene in Ukraine.
His UFC debut came in July 2020, and he has quickly risen to ninth in the middleweight rankings after winning six of his seven fights with the organisation.
Dolidze takes on Italy's Marvin Vettori, ranked number four in the division, in London on Saturday as he looks to strengthen his claim for a title shot this year.
"It's a very big and important fight for me," Dolidze said.
"We are different fighters. We have different strengths. He is well-rounded and has some good things, but I have my own stuff that is way better than him.
"I don't like talking too much. I always say the fight will show. I am always ready and will try to show my best.
"The UFC will decide, but I will ask for a title fight."